How to Setup a Serial Console Connection using PuTTy
Applicable Version: 15.01.0 onwards
Overview
A serial connection can be established between any SF Device and a PC using a console/serial cable (a cable with a 9 pin DB is supplied with the SF Device). PuTTy, an open source SSH and Telnet client, can be used to setup a serial connection. To download PuTTy, click here.
Scenario
Setup a Serial Console Connection using PuTTy.
Configuration
Follow the steps below to setup a serial console connection between the SF Device and a PC:
1.      Physically connect one end of the serial cable (the RJ45 connector, the console cable supplied with the SF Device) to the console port on the front panel of Sophos Firewall and connect the other end to the PC's serial port.
2.     Launch PuTTy, and Select the Connection type as Serial.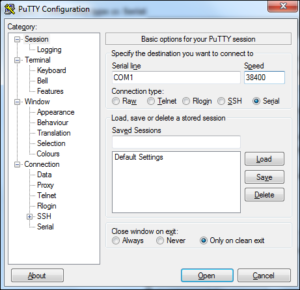 3.      Go to Connection > Serial to configure the Options controlling local series lines according to image below: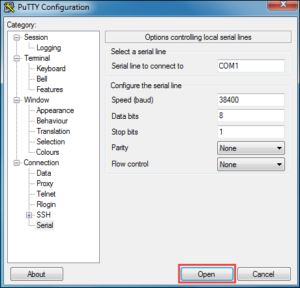 In above image spped shown is is 38400 ,pleas change it to 9600  rest all settings are same as shown in image.
4.      Click Open to establish the connection.