How to use servo brackets to built 3 DOF robot legs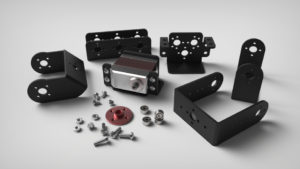 This post will describe how to built robot limbs using servo bracket set, screws or fastners and flanged bearings.using basic images one should be easily be able to build  robot limbs.
These robot limbs are usable on various types of quadruped robots ,hexapod robots in round or straight configurations.
Tools needed are pliers and screw drivers.
Screws used are button head 12 mm long 3mm diameter screws for mounting motors and 12mm long 3mm diameter flat head screws for mounting flanged bearings.
I thing think images should clearly describe the building of the 3 degree of freedom robot legs.
All components shown below are necessary to build sturdy robot leg.
for servo horn one can use plastic horn which usually comes with servo motor .we used plastic servo horn ,but we recommend Aluminum servo horn shown below in the image.
one thing to specify is you can do different configurations for this leg using different types of brackets.